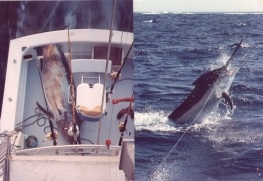 Come Game fishing on board Bounty Hunter in one of the worlds best fishing grounds right on the doorstep of Sydney.

With over 23 years of game fishing experience and numerous records let the crew treat you to an experience of a lifetime. One of the most thrilling sights you will ever see is a huge marlin tail dance across the water or make one of their spectacular jumps from the water but better yet your hooked up to it!

Bounty Hunter is setup for some serious fishing, with a tournament setup, The best gear money can buy so you can take on that 1000lb fish knowing the gear is up to it. The gear onboard bounty hunter ranges from light sports fishing to heavy Game fishing.

Species Targeted are:

Striped Tuna - 1KG to 8.5KG, year round

Yellow Fin Tuna -10KG to 80KG plus, year round

Mako Sharks - 10KG to Monsters, Winter

Striped Marlin - 20KG to 130KG, summer

Black Marlin - 20KG to 250KG, summer

Blue Marlin - 50KG to 450KG, summer

Sailfish - 10KG to 50KG, summer

Wahoo - 10KG to 30KG, summer

Mahi Mahi - 1KG to 35KG, summer

All heavy Game fishing gear supplied, This ranges from Tiagra 50 wides to 130 wides, custom game rods, Lures etc. You may also bring your own favourite lures.