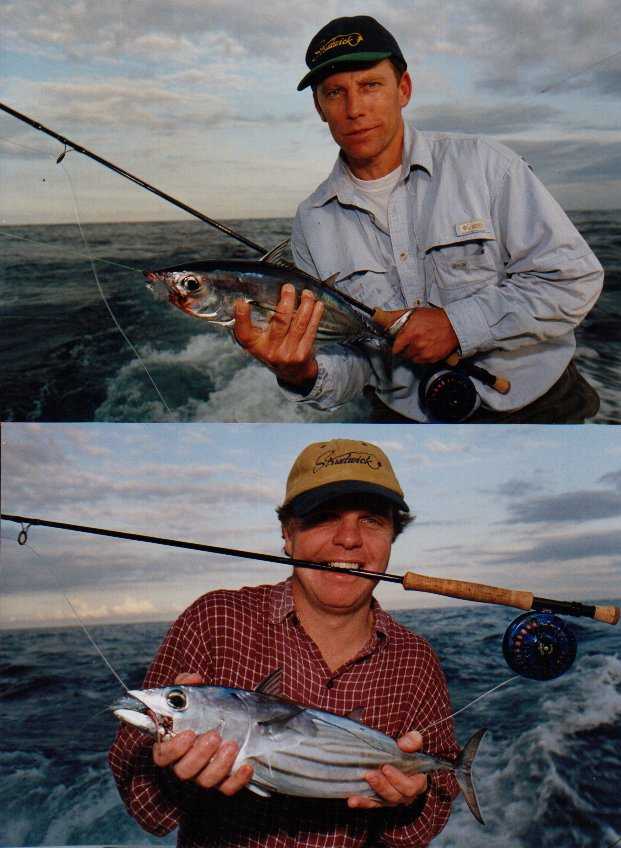 Saltwater Fly fishing is, without question one of the most challenging forms of Fly fishing there is, Also the most frustrating, but when it all goes right it is incredibly rewarding and satisfying.

Fly-fishing off Sydney is a year round proposition with a summer and a winter season each producing amazing fishing.

Species Targeted are:

Striped Tuna - 1KG to 8.5KG, year round

Yellow fin Tuna - 5KG to 120KG, winter

Albacore - 5KG to 20KG, winter

Broadbill swordfish -15KG to ???, winter

Mako sharks - 10KG to Monsters, winter

Striped Marlin - 20KG to 130KG, summer

Black Marlin - 20KG to 250KG, summer

Blue Marlin - 50kG to 450KG, summer

Sailfish - 10KG to 50KG, summer

Wahoo - 10kG to 30KG, summer

Mahi Mahi - 1KG to 35KG, summer

Fly Outfits can be supplied from 4wt to 20wt, Rods are Sage & Strudwick, Reels are Ables all loaded with 50lb bionic Braid backing, Fly lines - shooting heads, sinking, intermediate, floating & billfish tapers, *All gear is supplied on a you lose you replace condition, Reels can be spooled on our line winding machine either left-hand wind or right hand wind (Minimum of 2 days notice if left hand wind is required).